Arcivate are pleased to be working in collaboration with our partners Claremont and Splash Bi to deliver a
Finance Transformation Programme at the City of Edinburgh Council,
in conjunction with their IT Partner CGI

City of Edinburgh Council and CGI partner, with leading UK Oracle specialist to manage IT systems.
LONDON, UK (September 10th 2020): Claremont, one of the UK's leading independent Oracle Managed Service Providers, has been selected to lead the delivery of the Oracle components of the Enterprise Resource Planning (ERP) business transformation programme for the City of Edinburgh Council. The programme will provide the Council with a modern, secure and fully supported finance system that delivers business benefits by optimising the Council's IT environment.
Claremont will work in partnership with CGI and the Council to deliver the transformation programme, which comprises several elements: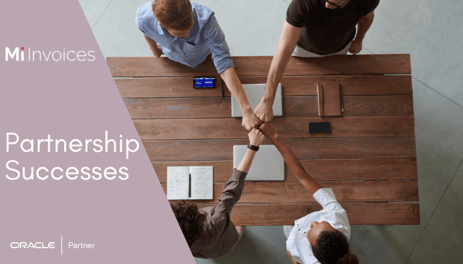 An Oracle E-Business ("EBS") upgrade, a move that will ensure that the Council is fully supported for

The implementation of Oracle Accounts Receivable and Advanced Collections to replace an existing sundry debt management system the next 10+ years, and can accrue business benefit from Oracle's continuous innovation of the product over that period.

The deployment of a new reporting tool, SplashBI, which provides a modern and flexible reporting solution.

The implementation of an AP invoice automation tool, Mi Invoices from Arcivate, which will deliver efficiencies in the process.
Provision of ongoing Managed Services support for EBS and other components of the solution.

Councillor Rob Munn, acting Finance and Resources Convener for the City of Edinburgh Council, said: "We're modernising services across the Council and investing in technology to make our processes as efficient as possible. This latest IT upgrade will support the way we deliver our finance systems, making them more flexible so that we can provide an even better customer experience for residents and suppliers."
Councillor Joan Griffiths, Vice Finance and Resources Convener for the City of Edinburgh Council, added: "The last few months have really reminded us how much we rely on having access to modern technology and the right tools for providing the very best services we can. Our partnership with Claremont will help us to carry out important upgrades to our internal IT systems, and I'm pleased that we're entering the new contract at what is a crucial and exciting time for our Council's digital programme."
Claremont CEO, Mark Vivian, said: "It's great to see the City of Edinburgh Council embark on such a vital ERP business transformation programme, and we are proud to have been selected by such a prestigious local authority. We are looking forward to working with them to deliver value back to their citizens over the coming years."
To find out more information about Claremont visit here: www.claremont.co.uk