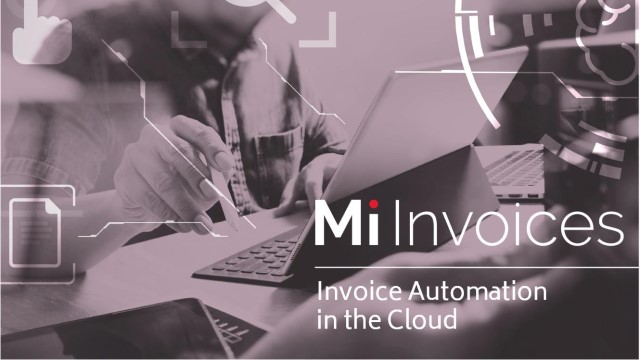 Arcivate Mi Invoices integrated with Oracle ERP Cloud. Now available in the Oracle Cloud Marketplace
Oracle Cloud Customers can use Arcivate Mi Invoices to Automate Invoicing in Oracle ERP Cloud, providing efficiencies in data entry, while minimizing the effort required and reducing costs.
Hampshire UK – January, 31st, 2018

News Facts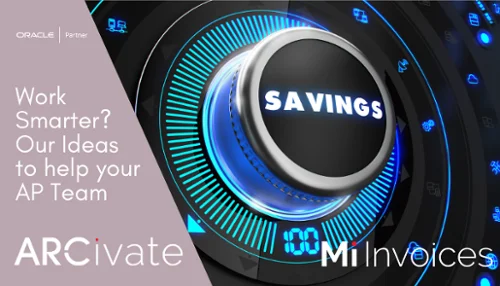 Arcivate Ltd, is a leading provider of dynamic solutions of tightly integrated cloud based SaaS offerings for document centric processes; including Invoice Automation, Expense Processing and Supplier Portal. Arcivate have successfully provided their clients with flexible tailored solutions, consultancy services and on-going support, therein improving governance, control, driving financial efficiencies and is a Gold level member of Oracle PartnerNetwork (OPN). Today, Arcivate announced its Invoice Automation platform Mi Invoices is now available in the Oracle Cloud Marketplace offering added value to Oracle Cloud Applications customers.
Mi Invoices automates the paper intensive AP invoice process by coupling scanning, capturing an imaging technology with workflow to reduce errors, increase throughput and boost efficiency, allowing organisations to shift their focus to the management of information from the keying of data.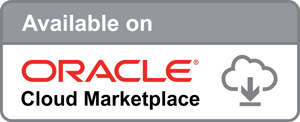 It is a necessity for organisations to implement a solution, which enables governance of their processes. It is not just the cost of processing but also having visibility, control and compliance.
High accuracy invoice processing increasing invoice to staff ratio
Reduced implementation and setup
No invoices lost or duplicate payments, with 24/7 visibility of invoices throughout the lifecycle
Non-template, self-learning capture technology to increase first time recognition
The Saas Solution allows customers to deploy rapidly and see benefits instantly. This accelerated integration is securely enabled using Oracle ICS and its pre-integrated adaptor with Oracle ERP Cloud SaaS and other applications. It is an enterprise-grade, performant and highly available integration platform.
The Oracle Cloud Marketplace is a one-stop shop for Oracle customers seeking trusted business applications and service providers offering unique business solutions, including ones that extend Oracle Cloud Applications. Oracle Cloud is the industry's broadest and most complete public cloud, delivering enterprise-grade services at every level of the cloud technology stack including software as a service (SaaS), platform as a service (PaaS), infrastructure as a service (IaaS), and data as a service (DaaS).
"To enable secure integration we have used Oracle Integration Cloud Service (ICS) to enable the integration with Oracle ERP Cloud" said Andrew Coyle, Managing Director Arcivate Ltd. "Arcivate participation in the Oracle Cloud Marketplace further extends our commitment to the Oracle community and -allows customers to easily reap the benefits of Mi Invoices. We look forward to leveraging the power of the Oracle Cloud to help us achieve our business goals."
The Oracle Cloud Marketplace offers an intuitive user interface to browse and search for available applications and services, as well as user ratings and reviews to help customers determine the best business solutions for their organization. With its new automated application installation features, customers can easily deploy provider business applications from a centralized cloud interface.
See our Oracle blog, for the critical pillars of automated invoice processing into Oracle ERP platforms
About ARCivate
Arcivate was founded in 2010 and became an Oracle Gold Partner to address the production document management business requirements. We are an exciting, dynamic, forward-thinking company with a flexible and agile approach to delivering Cloud and SaaS solutions. As a valued Oracle ISV and Cloud Build Track Partner, we use both Oracle's and Complementary cutting-edge technologies to provide configurable SaaS Invoice Automation Software solutions for our clients.
At Arcivate, we understand how to manage and merge the structured and unstructured information that runs your business. We have developed solutions to process intensive business applications such as invoice processing, human resources and customer services. Expertly delivering digital transformation for your business, across Oracle platforms and applications into both on-premise and Cloud environments.
About Oracle Partner Network
Oracle PartnerNetwork (OPN) is Oracle's partner program that provides partners with a differentiated advantage to develop, sell and implement Oracle solutions. OPN offers resources to train and support specialized knowledge of Oracle's products and solutions and has evolved to recognize Oracle's growing product portfolio, partner base and business opportunity.
Key to the latest enhancements to OPN is the ability for partners to be recognized and rewarded for their investment in Oracle Cloud. Partners engaging with Oracle will be able to differentiate their Oracle Cloud expertise and success with customers through the OPN Cloud program – an innovative program that complements existing OPN program levels with tiers of recognition and progressive benefits for partners working with Oracle Cloud.
To find out more visit: https://www.oracle.com/uk/partnernetwork/program/build/
Trademarks
Oracle and Java are registered trademarks of Oracle and/or its affiliates.