eBS R12 Upgrade, Enhance & Automate,

an Online Series of Workshops

to understand the benefits?
Sorry you missed our live workshops but you can still review the recordings of each session.
The series of workshops started with an introductory session on April 22nd and our attendees discovered insights into new functionality available and gained significant knowledge of the benefits of upgrading.
Agenda for the Workshop Series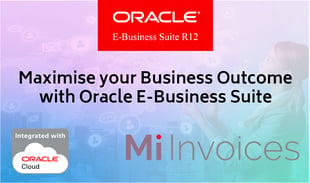 See a Live demonstration of eBS R12 and the new Enterprise Com
ma
nd Center and man
y additi
onal features

Utilise the Clou
d - What are the advantages and
benefits of implementing eBS in Oracle Cloud Infrastructure (OCI ), including the ability of cloning and the use of the Cloud Manager

See a demonstration of Arcivate Mi Invoices SaaS solution and the business benefits of Automated Invoice processing

Obtain the benefits of Oracle Cloud with OCI and understand the details of upgrading your current environment utilising ConFig SnapShot

The 2nd and 3rd workshop sessions took place on;
Wednesday 29th April
and
Wednesday 6th May
Where the sessions will go in-depth into the Upgrade, Enhance and Automate processes