E-Business Suite R12 Enhance & Automate - Procure-to-Pay Webinar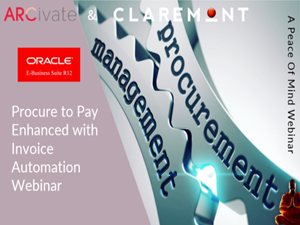 Arcivate and Claremont are collaborating to provide a joint webinar for an in-depth look into Enhancing and Automating the P2P process in the latest version of Oracle E-Business Suite R12.

Join us on September 17th, at 11.00 a.m.

Check us out!



Want to know more!

Arcivate Mi Invoices Solution
Oracle is not responsible for the features, support, or implementation of this Arcivate solution.
Stay Connected