Discover how to transform your Finance Team by migrating, upgrading, and enhancing Oracle eBusiness Suite with automation and utilising the cloud to realise the full potential and power of your application.
Join our On-Demand workshop to hear the experts from Arcivate and Data Intensity for a webinar on upgrading and migrating Oracle E-Business Suite to the cloud. You'll also discover how to realise further efficiencies by automating your supplier invoice processes which will truly empower you to transform the way your Finance team operates.
First shown on February 11th
In this webinar, we will explain how upgrading and migrating eBusiness Suite to the Cloud and enhancing with automation can optimise your end-to-end processes to deliver on key business objectives.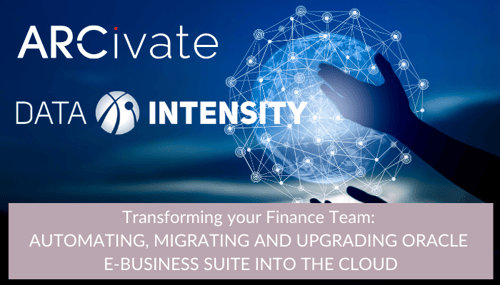 Data Intensity will cover the challenges you face in moving to the cloud by identifying the right cloud technologies to deliver faster time-to-value, reduced costs, and a predictable path to achieve your business outcomes.

Arcivate will demonstrate automation of the Accounts Payable data entry process with its Mi Invoices SaaS solution and the business benefits of automated invoice processing, including lowering costs and minimising manual inputs.
There will also be an opportunity to put your questions to the panel, who have 60+ years' combined experience in developing automated solutions for businesses using Oracle E-Business Suite around the world.